Teladongo: necessary but not sufficient
Teladoc needed Livongo to convince investors that it is more than a glorified Zoom, but that doesn't mean it's the next Google or Facebook.
---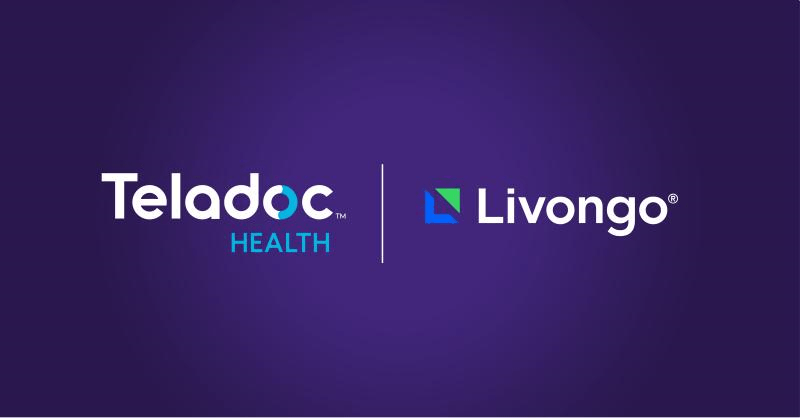 This would be a pretty forgettable digital health newsletter if I didn't write about the "Teladongo" mega-merger, especially since my last two articles have touched on both companies. ICYMI, Teladoc reached an agreement a few weeks ago to acquire Livongo in a $18.5 billion deal, creating the first true digital health behemoth. Today, we'll be looking at Teladoc's potential moving forward.
I'm going to be referencing ideas from 3 other articles which I'd highly recommend you check out if you have the time:
Francis Lee's presentation on Teladoc at the 2018 Sohn Conference

Nikhil Krishnan's take on the merger in his newsletter Out-Of-Pocket

Ben Thompson's 2015 article on Aggregation Theory.
Introduction
For quick background, Teladoc is a publicly traded telemedicine provider that connects patients to doctors via phone or video calls to address non-emergency medical needs. A few of the areas Teladoc is focused on are everyday care, dermatology, nutrition, and mental health. Teladoc's primary business model is selling its platform and services to employers and insurance companies through annual contracts that take on a variety of structures, which we'll talk about later.
I wrote about Livongo about a month ago, so if you're unfamiliar with what they do, take a look at my article here.
Telemedicine is a bad business
I've written previously about how the rapid adoption of telemedicine during the pandemic is part of an inevitable trend that is here to stay. Telemedicine is a rare example of a win-win technology in healthcare — it's more convenient and efficient for patients, it gives providers access to a broader patient base, and it comes with potential cost savings for payers. You can read that article here.
However, just because telemedicine is beneficial for the healthcare system overall doesn't necessarily mean you can build a massive business around it. In this case, I believe that telemedicine adoption will continue to rise, but telemedicine companies (and subsequently Teladoc's core business) will struggle.
Telemedicine has razor-thin margins
There are several reasons for this. First of all, telemedicine has razor-thin margins that are hard to improve. It's a similar situation to BetterHelp (which is owned by Teladoc) and Talkspace which I've written about here, where telemedicine companies are crippled by the marginal costs of paying providers. The unique thing with Teladoc is that their margins are getting worse, because as competition increases, they are being forced to shift from a more favorable business model (based on members rather than users) to a less favorable one (based on # visits). See Francis Sohn's presentation for a deeper explanation.
Telemedicine is a commodity
Teladoc's margin challenges are driven by the fact that telemedicine is the closest thing to a commodity for a regulated space like healthcare. Telemedicine platforms have minimal differentiation — besides being able to match patients with physicians, the technology itself is essentially a glorified, HIPAA-compliant Zoom (which by the way, Zoom can do too). In addition, the cost for employers and payers to switch providers is minimal, and there's already multiple players in the space with substantial market share (Teladoc, Amwell, MDLive, Doctor on Demand). The picture looks even worse when you realize that if payers balk at the terms they get from existing telemedicine platforms, they can go ahead and create their own (like Oscar). It is true that healthcare payers are notorious for being slow to innovate, but if I were Teladoc, I wouldn't bet the farm on it.
Teladoc's vision is to aggregate healthcare demand at scale
Assuming Teladoc is well aware of the challenges with their core business, what's the vision they have in mind instead? And how does the Livongo acquisition fit into their long-term strategy?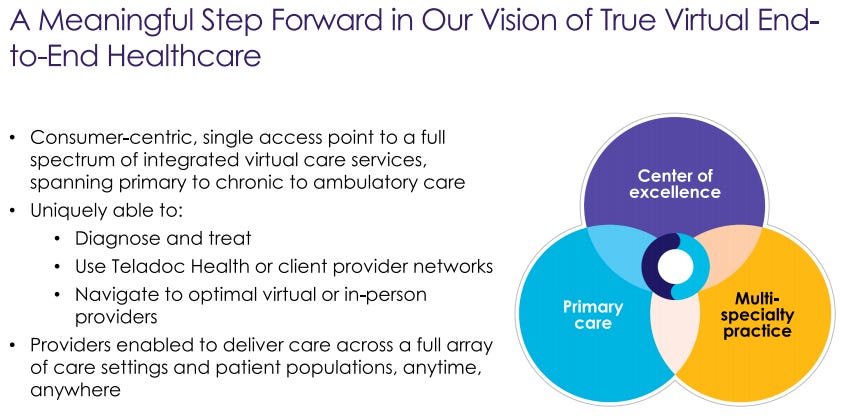 This screenshot was taken from Teladoc's investor presentation immediately after their Livongo acquisition, and it certainly paints an aspirational picture of achieving "virtual end-to-end healthcare". There's a big focus on "whole person" care, with Teladoc serving as the "single access point" for all virtual services. In other words, Teladoc's endgame is to do something that's never been done before — to successfully aggregate patient demand for healthcare at scale.
If you haven't read or heard of Ben Thompson's Aggregation Theory before, it's a must read, and I'll be using it as a framework for understanding Teladoc's lofty vision. To quickly summarize, every consumer market is more or less divided into 3 parts: suppliers, distributors, and users. Traditional businesses prioritized exclusive supplier relationships and used those relationships to acquire users. The Internet flipped the script by making distribution of digital goods essentially free, and successful Internet companies have prioritized developing exclusive relationships with users, instead of suppliers.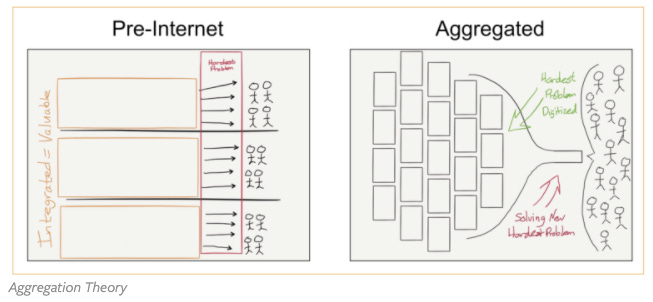 In this case, the suppliers are the parties that provide medical care, the most relevant ones being healthcare providers (like those on Teladoc), hospitals, and digital interventions (like Livongo). The users are the patients (and in some ways, the employers and payers as well who pay for healthcare services).
Looking at other success stories of Aggregation Theory (e.g. Google, Facebook, Amazon, Netflix, Uber), Teladoc's vision is pretty exciting. You can imagine a world where the first thing you would do if you had a medical need would be to open the Teladoc app. You'd be greeted by an automated questionnaire that would triage your symptoms and determine a course of action — a new medication prescription, a virtual visit with your therapist, or simply more exercise. The questionnaire would be supplemented by daily readings of your blood pressure, sugar levels, and body temperature by a suite of connected devices, and the data would be automatically transmitted to your care team. All without leaving your house.
Healthcare defies aggregation
Teladoc will struggle to develop an exclusive relationship with users
I am doubtful that it can be done. First off, successful aggregators, as we've discussed, are able to develop an exclusive relationship with users at scale. They can do this because their platform is highly differentiated and offers a clear value proposition over any alternatives. Teladoc's core business is the opposite, which makes it very difficult to develop or retain an exclusive relationship with users.
This is the first reason for the recent acquisition. Livongo has created a much more differentiated product than Teladoc, and the two products combined is a far stickier offering for users than telemedicine alone.
But the challenge goes beyond the nature of Teladoc's product. Virtual services with today's technology are only able to provide a small fraction of total medical care, with in-person services required for the rest. Teladoc boasts that 92% of users have their issues resolved after only 1 visit, but this is more of a testament to the narrow scope of Teladoc's applications today than its quality of care. This is a critical hole in Teladoc's strategy to become a healthcare aggregator.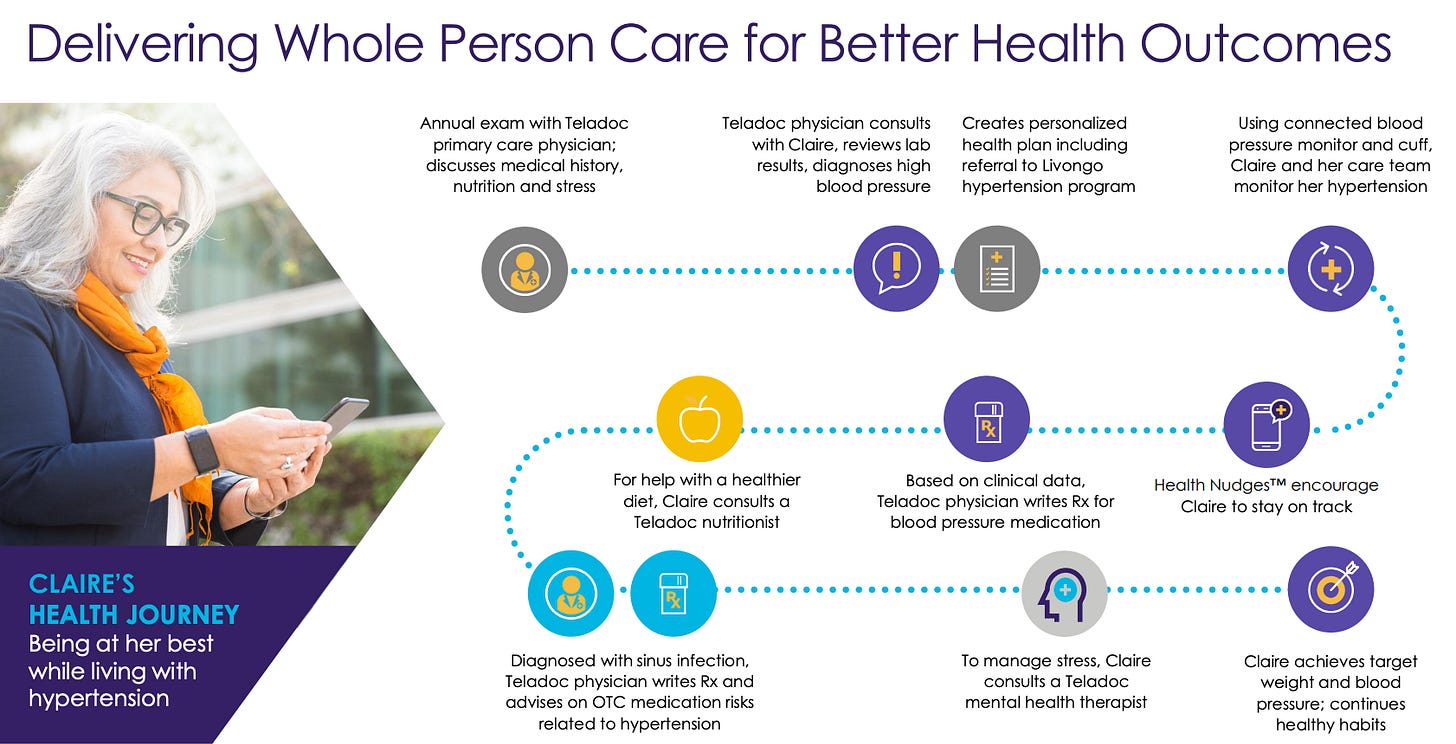 This screenshot is Teladoc's case study for virtual end-to-end care, and unfortunately it's wishfully simplistic. In reality, at any step in the care pathway, the patient may require a test or procedure that cannot be done in person, breaking Teladoc's case study and ending their exclusive relationship with the user. At this point, Teladoc will have to compete with the supplier providing in-person services (and also potentially their own white labeled telemedicine platform). Again, having a product like Livongo in the mix can help make the relationship with users stickier, but it will still hardly be exclusive.
One potential solution would be for Teladoc to get into in-person care themselves, as Nikhil discusses in his Out-Of-Pocket article. It's not as crazy as it sounds, and even though it would make Teladoc's margins worse, it might actually be necessary for them to achieve their vision. It would introduce a tricky operational conflict in which their telemedicine platform would match patients to providers regardless of location, but their clinics would match patients to providers based primarily on location. If Teladoc wanted to ensure continuity of care (maintaining the same care team for virtual and in-person services), they would have to sacrifice some of their telemedicine platform efficiency and probably margins too.
Suppliers will retain the power
On the other side, suppliers (e.g. providers + hospitals) will retain a significant amount of power. Due to the nature of healthcare, trust and loyalty are particularly important to users. Whether Teladoc decides to open in-person clinics or not, it will take time for them to build up the brand they need to attract users away from existing suppliers. This is another reason for the acquisition of Livongo, as it's far easier for Teladoc to gain leverage on suppliers by acquiring digital interventions, which help supplement care, rather than pulling patients away from their preferred doctors. I wouldn't be surprised if Teladoc has more similar deals in the pipeline.
It's also an uphill battle because demand for high quality medical care is always going to outpace supply. Teladoc can't replicate the aggregation stories of Google and Facebook, who took advantage of the abundant supply of content to essentially commoditize suppliers. Until medical care truly becomes a digital good, suppliers will keep the upper hand.
Closing thoughts
So what's the verdict on the Teladongo deal? First off, telemedicine on its own is a bad business, so Teladoc is right to try and expand into another space. Teladoc's vision seems to be to aggregate healthcare demand at scale like no company has done before. While their acquisition of Livongo is a step in the right direction, it's still very difficult to see how their vision will be realized.
Teladoc needed Livongo to convince investors that it is more than a glorified Zoom, but that doesn't mean it's the next Google or Facebook.